To tell you about Lavash, first i have to tell you something about its history ! Iranian love cheese and simply love all cheeses!!! Their love of cheese perhaps comes from their childhood days spent sipping sweetened tea with cube sugar and stuffing pieces of bread with feta cheese. These days their love affair with cheese is the force behind them making feta cheese and baking bread only to consume it fresh.
Iranian style of bread
Bread for Iranians is fresh bread, warm and inviting, taken home from a local noonvaee (bakery baking only one type of bread) in the morning for breakfast or in the afternoon for dinner. On long summer afternoons, fresh bread with cheese and vegetables or with slices of tomato and cucumber was a refreshing afternoon tea, much like crackers and cheese are a simple comforting snack.
What is Lavash ?
Iranian Lavash is a thin large sheet of bread dough cooked inside a tanoor. A tanoor, similar to an Indian tandoor, is a massive clay pot or custom built into a well or a wall and it is heated by charcoal or wood. A tanoor is heated for a long time to heat the clay walls. Once the dough is rolled out, it is placed on a long thick oven mitt and the dough is pressed firmly against the tanoor wall. The dough immediately sticks to the hot burning wall.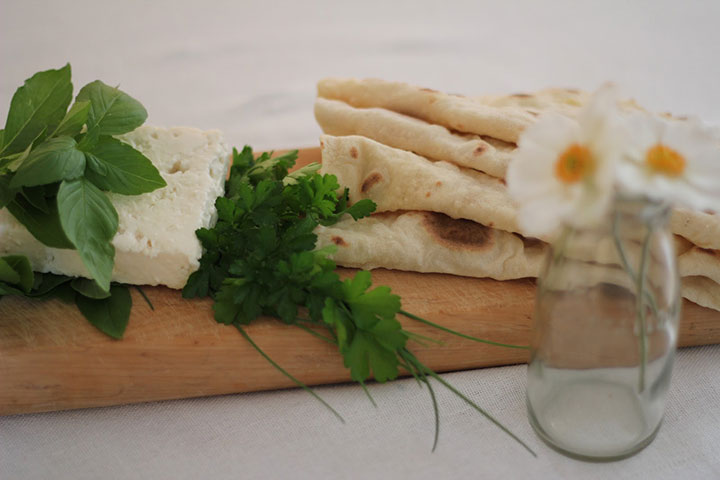 Once, the dough is cooked, it simply peels off the tanoor wall. Without a tanoor at home, nothing stops us from making lavash or barbari (Turkish pide style of Iranian bread) at home. Absolutely nothing beats the smell of fresh bread and making lavash is easier than you think.
This thin bread, can be really tasty with Iranian cuisine. The below video is an Iranian Lavash bakery somewhere in city center of Tehran. You can see what exactly is Lavash.
Video of Lavash bakery in Tehran
Please leave your comments about this Iranian bread, what do you think about it ?