I love lasagna. For one, it's pasta baked in delicious tomato sauce with vegetables. Secondly, one pan of lasagna lasts for days! It's even better as leftovers. Since my girlfriend is vegetarian, I had to say goodbye to meat as well. I've featured a Vegetable Lasagna before using mushrooms and a variety of veggies instead of spinach but this one is much simpler but it does contain more cheese. If you're going 100% meatless, you can substitute with dairy-free cheddar cheese but finding vegan ricotta cheese may be a challenge unless you may know of one. If you do, please do share where you found one, I'd really appreciate that!
In this recipe, it is important to use the best tasting marinara sauce you can find. I always use Victoria's White Linen Marinara Sauce. It's so good because they use top quality ingredients and you can really taste it. In Canada, they're sold exclusively at Costco. For my pasta, I've chosen to use Barilla Pasta as I recently discovered how they're making a strong effort to reduce on Co2 emissions, energy and water consumption.
Their packaging is also recyclable too. For the olive oil, I'm using an olive oil spray by Chosen Foods and it makes cooking so much easier! I can control the amount of oil I want in my food better and I can recycle their aerosol cans too. If you're wondering if there are any unnatural chemicals in this oil spray, there are none – it's 100% all natural! Well I hope you guys give this lasagna a try. If you enjoy it please share with family and friends. Disclaimer: I am not sponsored by the companies listed in this post.
INGREDIENTS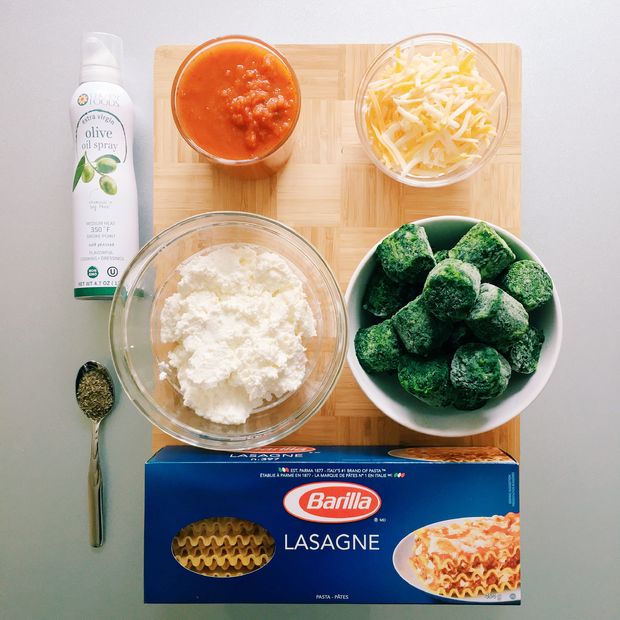 SERVES 12 LARGE PIECES | PREP TIME 30 MINS | BAKE TIME 30 MINS
1.18 litre of Marinara Sauce
1 box of lasagna noodles or 18 pieces
3 cups of cheddar or dairy-free cheddar cheese
500 grams or 3 cups of thawed frozen spinach
475 grams of traditional ricotta cheese
1 tsp of dried oregano
olive oil for coating baking sheet
salt and pepper to taste
Required: Deep Baking Pan
Spinach Ricotta Lasagna
1. Begin boiling your noodles according to package instructions, if required.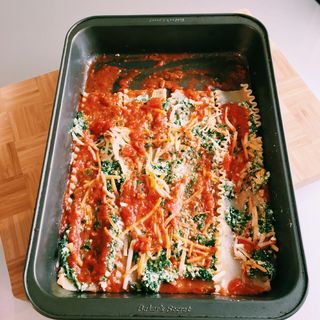 1. Meanwhile, remove the water content of the thawed frozen spinach using a sieve. In a large mixing bowl, mix together spinach, ricotta cheese, and oregano. Season with salt and pepper to taste. Set aside.
2. Once noodles are cooked and strained, preheat your oven to 375 degrees F. Oil your baking pan. Ladle some sauce into the baking pan and evenly distribute it.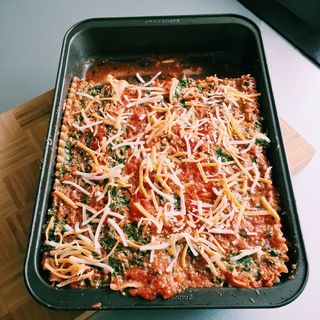 3. Time to layer your lasagna! Begin by laying a row of lasagna noodles. Then scoop some of your ricotta cheese mixture and spread across the noodles with your hands. (Yes your hands, they're the best tool). Then ladle some marinara sauce over the ricotta mixture and spread. Lastly sprinkle some cheddar cheese. Repeat these steps with the remaining noodles and mixture like the pictures below.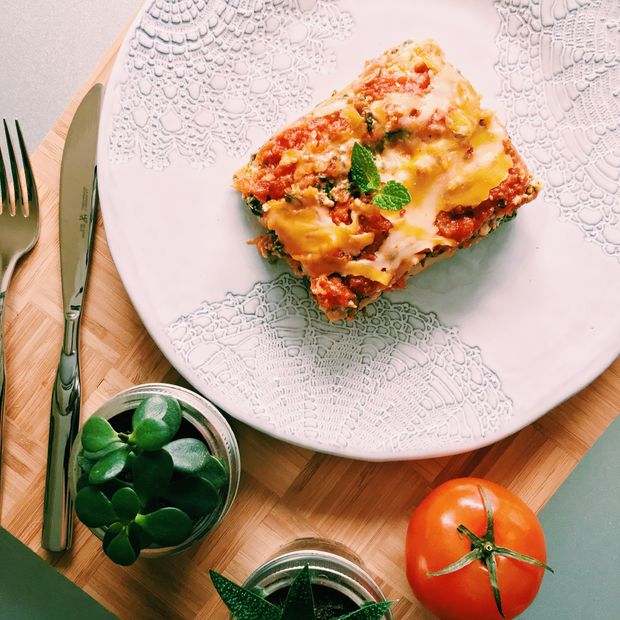 4. Bake uncovered for 20 minutes. Then bake another 10 minutes covered. Remove from oven and let it sit for ten minutes before serving. Enjoy!