A 'victory' parade for trump was announced by the Loyal White Knights, a KKK chapter, will take place in North Carolina during December. "Trump's race united my people," read the announcement, according to the News Observer.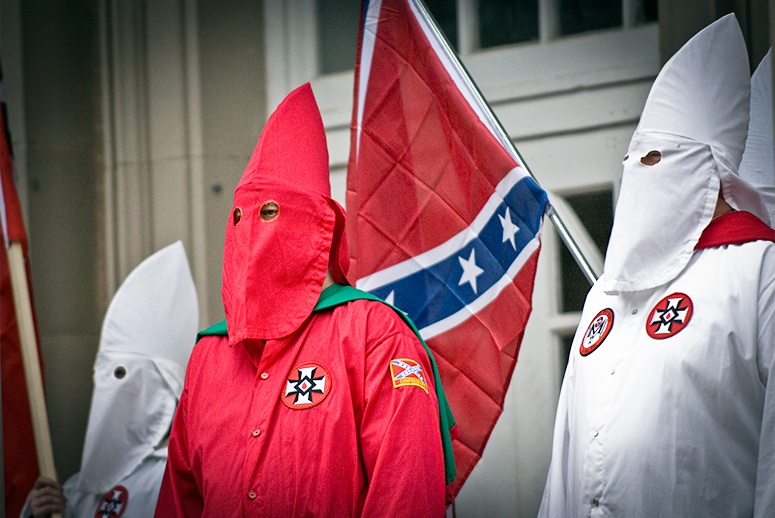 Ku Klux Klan celebrating Trump victory
David Duke, a former Imperial Wizard of the KKK, hailed this election "one of the most exciting nights of my life" and rejoiced in the fact that "our people" helped him keep Hillary Clinton out of the White House.
The KKK's official newspaper lent their backing to Trump during the election campaign, and the president elect was forced to distance himself from the hate group's support. Last week, the Trump campaign sent out a statement that the property billionaire "denounces hate in any form".
In 1927, Donald Trump's father was arrested after a KKK riot in Queens when over 1,000 white-robed Klansmen marched through the Jamaica neighborhood.
A Daily Star article stated that his father was detained "on a charge of refusing to disperse from a parade when ordered to do so."
On Wednesday (9 November), protesters took to the streets in at least 10 US cities to march against president-elect. Nazi graffiti was spray painted on the glass window of a South Philadelphia building with the words "Seig Heil 2016", while a swastika was added to the word Trump.
The Philadelphia Police Department are investigating the vandalism although have not yet said whether it will be treated as a hate crime.
The incident happened between 9–10 November, the 78th anniversary of Kristallnacht, when Jewish-owned businesses were attacked by the Nazis in Germany. Synagogues were set on fire and nearly 100 Jews were killed.
"We are horrified by the appearance of hate graffiti on a storefront in South Philadelphia," said Nancy K. Baron-Baer, regional director of the Anti-Defamation League. "Swastikas and the Nazi salute send a message of intolerance and hate to the entire community. The fact that today is the 78th anniversary of Kristallnacht adds another layer to this already sickening act."