Samsung W2017
If you think Apple is the only company trying to bring back this all time classic, you're wrong. On friday the Samsung W2017 was unveiled. An android-based flip phone built with premium quality and not just one, but two 4.2-inch touchscreens. Both of the screens are located on the top part of the phone, and on the bottom it features a more traditional keyboard.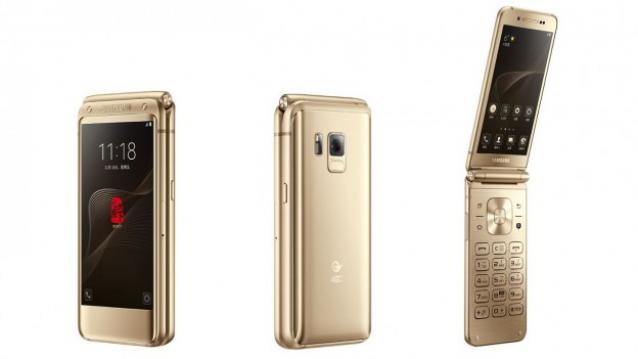 It has a couple of 4.2-inch 1080p Super AMOLED touchscreens, one on the outside and one on the inside. The main camera is a 12 MP f/1.9 unit with 4K video recording support, while selfies are taken care of by a 5 MP snapper on the front. The phone works on 4G networks, and has a 2,300 mAh battery. Its dimensions are 127.8 x 61.4 x 15.8 mm, and it weighs 208g thanks to its metal frame.
The flip phone has a fingerprint scanner, an Always On Display, and fast wireless charging support. It runs Android 6.0.1 Marshmallow. The W2017 will be released in China soon, and it will most likely be confined to that one market forever, judging by what happened with its predecessor.
But don't be too excited. The return of this legend will not come with an affordable price. It is only planned to be sold in china at the estimated price of almost $2,950. "come on!! seriously?" yup that was my reaction too. Let's just hope that they'll make a more affordable versions of this so everyone can enjoy this awesomeness once more.
The W2017 will be powered by Snapdragon 820, the same exact processor as the Galaxy S7. Although software wise, it's behind as it's running Marshmallow 6.0.1 rather than the new Nougat 7.0.
Specs
Two 4.2-inch 1,920x,1,080-pixel Super AMOLED displays
12-megapixel rear camera, 5-megapixel front camera
2,300 mAh battery
4GB RAM
64GB onboard storage