WordPress is one of the most popular content management systems (CMS) used for website designing. Can you guess How many websites are WordPress based? According to recent statistics, WordPress holds a significant share in the web designing industry. As of 2021, WordPress is powering over 42% of all websites on the internet. This includes both small and large businesses, bloggers, e-commerce websites, and even Fortune 500 companies.
Why WordPress is the best choice for this many websites ?
WordPress is a versatile platform that offers a wide range of features and functionalities, making it an ideal choice for various types of websites. Its popularity can be attributed to several factors, including its user-friendly interface, customizable design options, extensive plugin library, and its ability to cater to the needs of both beginners and experienced web designers.
In addition to its features, WordPress is also open-source software, meaning that it is free to use and can be customized by developers to suit their specific needs. This has led to the development of a vast community of users and developers who contribute to the platform, ensuring its continuous improvement and evolution.
Is WordPress going to become more popular?
WordPress has become the go-to choice for many web designers and businesses looking to establish a strong online presence. Its widespread usage and popularity are expected to continue to grow in the coming years, cementing its position as a leading CMS in the web designing industry.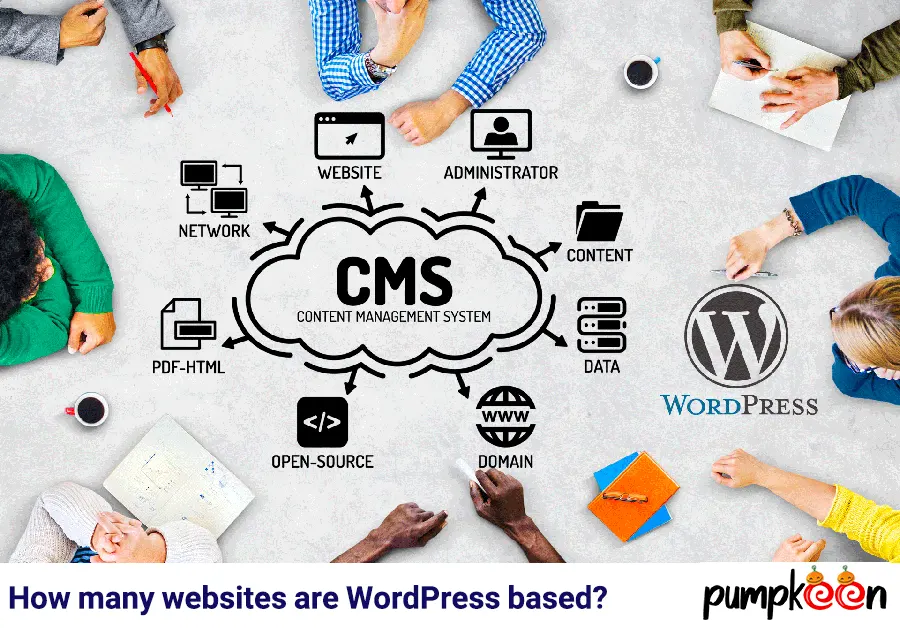 Different uses of WordPress in Business?
WordPress is a versatile content management system (CMS) that can be used for a wide range of business purposes. Here are some of the most common uses of WordPress in business:
Website development: WordPress is widely used to create websites for businesses of all sizes, from small startups to large corporations. It offers a range of customization options, making it easy to create a professional-looking website that meets your business needs.

E-commerce: WordPress can be used to create online stores and sell products and services directly to customers. The WooCommerce plugin is one of the most popular e-commerce solutions for WordPress, offering a range of features to help you manage your online store.
Blogging: WordPress is widely used as a blogging platform, offering a range of features to help you create and publish blog posts, manage comments, and promote your content on social media.
Lead generation: WordPress can be used to create landing pages and lead capture forms, helping you generate leads and build your email list.
Membership sites: WordPress can be used to create membership sites, where users can pay to access premium content or services.

Event management: WordPress can be used to create event websites, where you can promote and manage events, sell tickets, and communicate with attendees.

Portfolio sites: WordPress can be used to create online portfolios for freelancers, artists, and creatives, showcasing their work and skills.

Online directories: WordPress can be used to create online directories of businesses, products, and services, helping users find what they need quickly and easily.
WordPress is a versatile tool that can be customized to meet the specific needs of your business, making it an excellent choice for businesses looking to create a powerful online presence.
The most famous plugins for WordPress
| Plugin Name | Description |
| --- | --- |
| Yoast SEO | Improves search engine optimization of your website |
| Jetpack | Provides security, site backups, and other essential site management features |
| Akismet Anti-Spam | Filters out spam comments |
| Contact Form 7 | Adds contact forms to your website |
| W3 Total Cache | Improves website speed and performance |
| WooCommerce | Adds eCommerce functionality to your website |
| Elementor | A drag-and-drop page builder for creating custom website designs |
| Gravity Forms | Creates advanced forms with various fields and conditional logic |
| WPForms | A beginner-friendly form builder with pre-built templates |
| MonsterInsights | Tracks website analytics and provides insights for improving site performance |
How many website are exactly designed by WordPress?
As of February 2023, the exact number of websites that are designed using WordPress is difficult to determine, as it is constantly changing. However, according to the latest statistics, WordPress powers over 40% of all websites on the internet. This translates to hundreds of millions of websites.
Where can I learn web designing with WordPress ?
There are several resources available online where you can learn web designing with WordPress. Here are some options:
WordPress.org: This is the official website for WordPress where you can find documentation, tutorials, and guides on how to use WordPress for web design.
Online Courses: Websites such as Udemy, Lynda, and Skillshare offer various online courses on WordPress web design.
YouTube: There are numerous YouTube channels dedicated to WordPress web design tutorials. Some popular ones include WPBeginner, WPCrafter, and Tyler Moore.
WordPress Meetups: You can attend local WordPress meetups where you can learn from experts and other members of the WordPress community.
WordPress Forums: WordPress has an active community forum where you can ask questions and get help from experienced WordPress users.
WordPress Web Design Agencies: If you prefer a more hands-on approach, you can hire a WordPress web design agency that can teach you how to design websites using WordPress.
Conclusion
We discussed WordPress importance as a popular content management system (CMS) for web design. We talked about the various uses of WordPress in businesses, including for e-commerce, blogging, and portfolio sites. Discussed some of the most popular plugins used in WordPress and how they can enhance website functionality. Furthermore, we looked at the growth and usage of WordPress globally and how it has become the most widely used CMS on the web. Finally, we talked about resources for learning web design with WordPress.