Have you ever try to write in Arabic or Persian and maybe Hebrew in Photoshop ! If you have ever tried this, then you would face to a big problem ! Every texts are corrupted ! But don't worry it has a very simple solution to enable Middle Eastern features in Photoshop. I will explain how to enable Arabic or Persian (Farsi) in Photoshop in next lines.
How to enable middle eastern features in Photoshop
There are two different items which you might be referring to (see screenshot).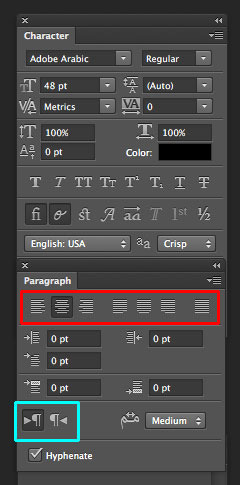 The first (in the red box) is alignment and is very similar to what you would have in Word. The second (in the aqua box) is directionality, such as right-to-left found in Arabic and Hebrew. This directionality feature was NOT in CS5 (except the Middle Eastern version).
Access Middle Eastern Functionality
To access the Middle Eastern functionality is CS6, you have to go to your Preferences and choose Type. Then, under Text Engine Options, choose Middle Eastern. You'll need to relaunch Photoshop for the change to take effect. Once PS is relaunched, click the Type menu and select Language Options > Middle Eastern Features. Now, you'll notice that your Character and Paragraph panels have lengthened with new icons to support these features.
This tip can really help you if you want to write something in Farsi or Persian.